When I was a little girl, one of the things I loved to do was to sit in the living room on the floor with my sister and cousins and watch my mother cook dinner. We'd make our playground for the evening on our old carpeted floor playing surrounding by half naked, ragged-haired dolls, play money made from notebook paper and old home telephones. We were pretend mothers, businesswomen and  school teachers all while trying to unsuccessfully convince my brother (who was really just live bait) to join in to be bossed around.
My mother would often be in her own world calmly at work preparing dinner. She'd be effortlessly at work mixing up cornbread, chopping tightly hand bound vegetables and watching her black eye peas simmer over a low heat while listening to the radio or an old tape. Often, she would pause during some of her favorite songs to have a half exhausted half enthusiastic seat at the kitchen table. I grew to learn which songs caused my mother pause. Like she'd done many times before, as the tune would fade up and the familiarity of the song washed over her, she would take a second to let the beginning of the song take her in followed up by a drag on her cigarette. Then came the slow nod of her head or a few low, off note squeaks of her singing to her favorite records. One of her most beloved singers was Roberta Flack. Roberta had the ability to stop my mother dead in her tracks and take her to a place of peace and longing that I was not able to truly understand the breadth of until I became a married woman.
WHO IS ROBERTA FLACK?
A classically trained pianist, Roberta was discovered at a D.C. nightclub while she was attending Howard University. After being signed to Atlantic Records, she started pumping out the hits including "The First Time Ever I Saw Your Face", "Where Is the Love" (her a duet Donny Hathaway who was a Howard classmate), "Killing Me Softly With His Song" and "The Closer I Get to You"-a record my mom kept on repeat.
It was during my early childhood that I was exposed to and learned about Roberta's music. Over a backdrop of Roberta's music, I watched my mother slow dance over pots of collard greens that she meticulously seasoned on every beat while she hummed to herself. I watched her daydream out the window, her long lost dreams escaping her through the smoke that filled her lungs and disappearing into the night through the kitchen window screen as a dance of longing and want. It was because of how Roberta' and other R&B artists made my mother feel that I in turn learned how to feel about music…and in many ways about being a woman. Really good, soul-stirring music inherently makes you feel emotional on many levels. Now that I'm a woman I can almost imagine my mother's daydreams, and seeing how she reacted to Roberta's sounds made me realize that there was something about this record and the woman singing the song that was special.
ROBERTA'S MUSIC
Roberta's music is classic and sophisticated and utterly romantic. It is is a delicate mix of jazz, pop, R&B, and folk music just like many of the other black female singers of her era. Though her first two albums were well received, she didn't have her first hit until her song "The First Time Ever I Saw Your Face," from her first record, was included in the soundtrack of "Play Misty for Me" keeping her at number one for six weeks and making her record the biggest one in 1972. "Killing Me Softly With His Song" became her second number one hit for five weeks in 1973.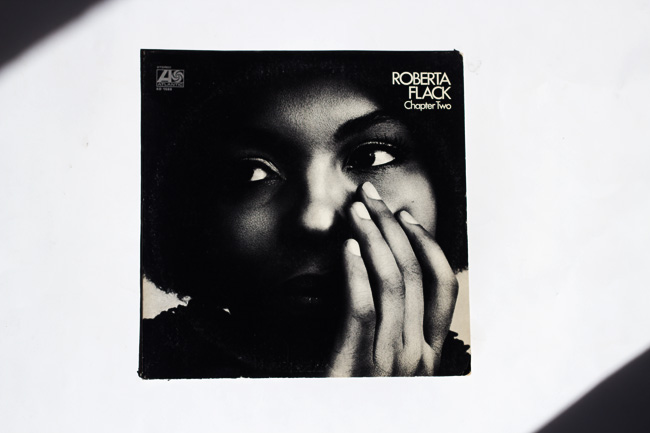 Roberta has taken many breaks throughout her musical career to focus on charitable causes, but in 2012 she resurfaced and released "Let it Be Roberta", an album of Beatles covers (she actually lived in The Dakota apartment building in New York across the hall from John and Yoko when she was younger).
Roberta Flack is a woman that you need to know. Her story is important and impacts African American culture greatly and not just because her songs have been covered by current greats like Lauren Hill, but because she has helped to shape and continues to define positive cultural aspects of what it means to be a talented black artist in America and represents a strong confident and strong black woman.